Holiday house in South Africa
Holiday house with 8 beds.
Situated in Scarborough near Cape of Good Hope.
The main house has 3 bedrooms: one with a King size bed, one with a Queen size bed and one with two single beds. In the garden house there is a Queen size bed.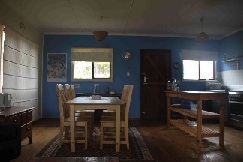 Kitchen /family room and bathroom.
The main house has a combined kitchen/family room. In the livingroom area there is a dining table with 6 chairs, two settees and a coffee table. The kitchen section has a refrigerator / freezer and a cooker with 6 gas jets and a big electric oven. The bathroom has a toilet, a sink and a combined shower /bathtub.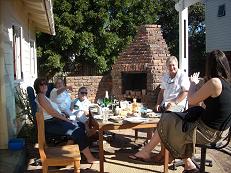 The terrace.
There is a lovely fireplace (braai) on the terrace. Evenings on the terrace are nice, the meat cooking on the grill.
Enjoy a drink in the wonderful sunset or bring a sundowner with you to the beach just 300 metres from the house.

The Garden House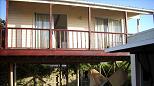 In the garden house in the back yard there is a light open room with a kitchenette, a sleeping area and a livingroom area with a dining table with two chairs and a sofa and a coffee table. There is small, separate bathroom with a toilet, a sink and a shower.